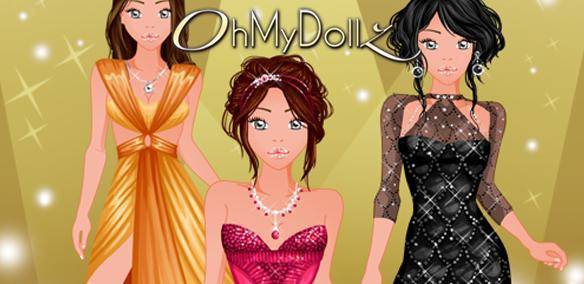 Oh My DollyZ Games
Lang: English
Oh My Dollz is a Free to play Dress up MMORPG genre game, developed by Feerik for Internet Browser, is a Browser game.

Ohmydollz is a free to play browser game that is an interesting mix of character dress up and social community based game where players can create their own unique doll avatar, design them, dress them and by items for them including furniture for their own loft. With content and updates added weekly and dozens of quests and adventures to experience there is a strong girlie community where players can make friends through forums and private messages. Each doll has their own personal profile page to fill out their likes, hobbies and location, which acts as a secondary social media page for players to get to know each other better.

The main emphasis of the game is personal decoration, starting out players must design their doll choosing from various skin tones, hairstyles, facial features and of course make up! Players are able to dress their dolls with a number of different clothing items and accessories, from cute girl to rock chick, it is really simple to add your own personal touch and flair to your doll. New items can be purchased with $$$ in game currency, typically acquired through taking on a career.

Players can start out as a babysitter gaining a small amount of $$$ and they must work up their characters attributes (Beauty, Charisma, Art and Intelligence) to advance into other career opportunities such as a top model, singer, actress, nurse and even lawyer, each career requiring a certain amount of points in different attributes. The more difficult careers give more $$$ per hour, which means more money to spend on clothes and furniture for your loft apartment.

One of the key features of the game is trying to "seduce guys" and to be "perfect in his eyes" in order to receive gifts from them. Each budding lothario has an opinion on your doll typically based on her attributes or look (eg. she needs a different hairstyle or piece of clothing), displayed with a % meter to show how into you he is. Players are encouraged to purchase the items needed to make these guys like them, which can be bought from the in game store. Players can purchase $$$ with real-world currency or click some easy to access advertisement links from a window pop-up that takes them to external sites prompting them to do anything from watching videos to registering to their websites (due to the nature of some of these sites, such as "DinkerSociety.com" a site for social drinkers to "meet others that also consume alcoholic beverages", we'd say that the game whilst on the surface is appealing to a younger audience should be given parental supervision.