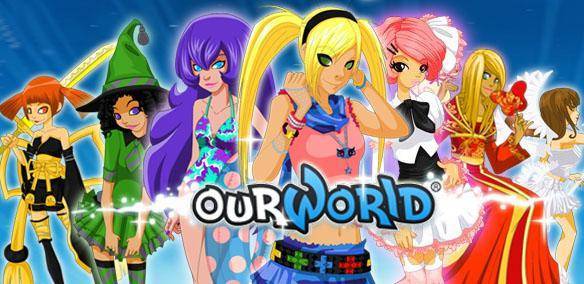 OurWorld Games
Lang: English
Our World is a Free to play Social MMORPG genre game, developed by FlowPlay for Internet Browser platafor games.

OurWorld is a social-based MMORPG where players can build their own character, create a life for the character and interacts with millions of other players in various settings and locations to play games, chat or simply hang out. The game acts as a second reality for many players and due to its social nature enables players to make new friends using the various features available. Make in game money, buy new items, decorate your apartment and have some free to play form all in the comfort of your Internet browser.

In the game players can fully customise their own character from dozens of different hairstyles, skins, facial features and more to make your character look just how you imagine them. Using in game currency players can then address their avatars in lots of unique items, mimicking their favourite characters or coming up with their own new styles with a huge assortment of clothing items, accessories and form objects. Items are bought with in game gems which can be earned through performing various activities purchased with real-world currency.

Once your character is made and dressed itís time to head out! With limitless locations in this virtual world filled with dance clubs, shopping venues, beaches, coffee shops and more there are untold places to discover and explore. Meet new people, interact with them socially through chat channels and find new friends to play various built in mini-games, from puzzle games to action arcade type games, players will rise in rank and also earn themselves in game prizes! New games are added all the time from Flash game developers who use OurWorld as a platform to advertise and promote their games, including exclusive PopCap Arcade games like Zuma, Bejeweled 2 and Plants vs Zombies, meaning the content is always fresh.

Once your busy day is done players can head back to their own apartment that can be designed and decorated to be the house of your dreams. Add new furniture pieces, carpets, wallpapers and a whole host of unique and cool objects that can be bought or unlocked through questing. Your apartment doesnít just have to be a house for yourself, it can also be a home for your pets as players are able to seek out some cute companions to spend their time with, raise them and take care of them.