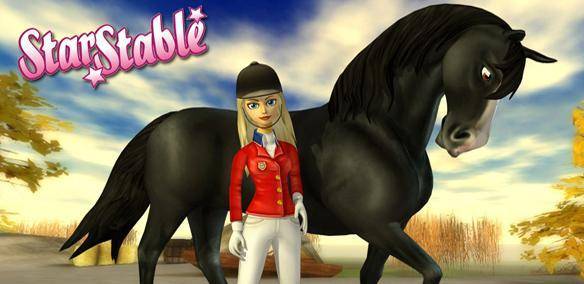 Star Stable Games
Lang: English
Star Stable
Genre: Free to play MMORPG - Girls free-to-play MMORPG - Kids MMORPG
Platform: Internet Browser
Developed By: World of Horsecraft AB

In Star Stable players are able to own their own horses as they explore even fast 3-D world, customising their own characters and horses whilst competing in various competitions and races, solving interesting quests and engaging in a number of challenges. For anyone who has a passion for games and horses Star Stable is an incredible MMO RPG that will help players come together who share this passion to make new friends and work together in cooperative play.

It is said that once Jorvik was booked a lifeless, barren rock that lay dormant in the midst of cold, dark ocean. When a sky fell down from the heavens a girl on horseback emerged, the glowing light emanating within her and Ashley Road across the land calming the ravaging waters and bringing life to this world. The people that followed have always had a spiritual type connection with the horses of the land, and it is said that when the darkness and despair returns so will the girl on horseback to once more bringing the light to those lost in the shadows.

At character creation players are able to design not only their character but also their very own digital horse, having the choice of various different cosmetic appearances for both. From there on the character and horse will be partnered throughout the rest of their adventure in Star Stable. The game is meant to be fun and family friendly, promoting cooperative play and friendly competition, players can challenge each other in various competitions, events and even races as they try to get the quickest time possible against their friends or even everyone else in the game. Daily missions are also available from the various stable groups within the game, which by completing can increase your reputation giving access to unique items, clothing and horse equipment.

Star stable is completely free to play and the basic features can be enjoyed without ever paying any money. However, for some of the features players are required to be a star rider member, in becoming a member they are given access to the hall game world, various shops and all quests and storylines as well as receiving and allowance each week for 100 Star Coins to spend as they please.