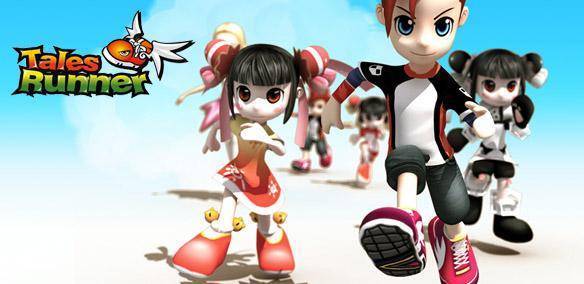 Tales Runner Games
Lang: English
Tales Runner is Free to play Racing MMO.

Tales Runner is a free to play racing MMO where players choose from a variety of different characters in a fast, fun and family friendly running/racing game that takes place across a variety of fantasy inspired racetracks and obstacle courses filled with puzzles, traps and enemies. With the choice of different key characters to choose from, players will have hours of friendly competitive fun with this rereleased game.

Tales Runner has an interesting system when it comes to racing, on the one hand players compete against each other to try and reach the finish line before the other races, on the other hand there are points within particular racecourses whether players actually have to work together such as for players standing on a stone until a door opens, meaning that even if you are in first place once you reach this point you have to wait for the other three players.

There are a variety of different themed maps, including classic fairytales such as Alice in Wonderland where players must navigate through huge rolling Tweedledee and Tweedledum boulders, jump over Cheshire Cat hurdles and navigate through scores of Playing Card Soldiers. In Survival mode players must roam, dash, duck and dodge against the different bad guys that are trying to hunt them down and eat them, putting players against these bosses as well as each other in the race.

As players gain XP through racing, earned at the end of the race depending on your finishing position, they will gain in level and players are awarded TR (Tales Runner) currency that can be spent in shops or used to purchase Alchemy recipes.

The game is set in a fantasy realm where a magnificent racing competition is held called the Fairyland Sightseeing Racing Competition, where all contestants (Tales Runners) compete against each other in the hopes of winning a Dreamstone, a magical artefact that can fulfil the owners deepest wish.

There are a number of different quirky characters to choose from in the game, lovable and fun characters each with their own motivations for joining the race, stats and abilities (Max Speed, Strength, Control and Acceleration) as well as a variety of different skins/outfits to choose from. The majority of characters can be purchased through the in game store and some are unlocked through completing specific events/modes and maps.

Away from the game players can meet all in The Plaza, a social hub where players are able to chat and hang out as well as gaining access to a variety of different NPC's such as the Alchemist who allows players to create their own items using a variety of recipes and ingredients. Similarly there is the shop to purchase different items and exchange price tokens. Each player also has access to their own private community map that players can customise with a variety of items purchased from the Farm Shop, here players can own and run their own farm and invite players to it, make it open to the public keep it locked using a password.